To raise money for relief efforts in Nashville, I'm contributing a piece to Fics for Nashville. For a $5 donation to the approved charity of your choice, you'll receive access to exclusive stories written by many fine authors. For more information (and how to donate) click the apple logo below.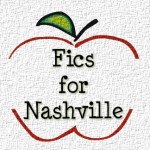 What will I be writing? Well, in all honesty (despite the fact the deadline is tomorrow) I have no idea. I've kicked around everything from original fic to vamp sex. That's where you come in. I'm open to suggestions; feel free to leave them in the comment box below.
Thank you for your support.